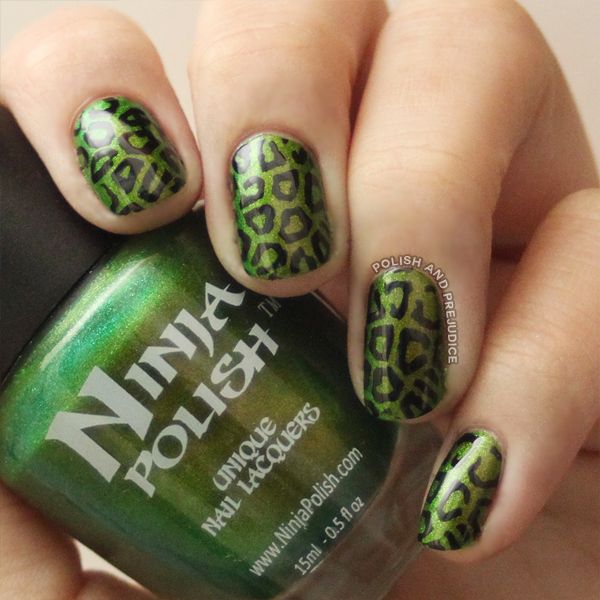 Hello all! I shared my swatch of Ninja Polish Shillelagh a few posts ago; this is what my finished manicure looked like. I stamped using Moyou London Pro Plate XL 04. I wanted to try a leopard print in non-traditional colours for the first time...a lot of people actually thought it was a turtle shell print.
For the stamping, I used Konad Special Polish in black for some nails and a Born Pretty Store black stamping polish for others. Personally I liked the Born Pretty polish better, I felt that it had a cleaner look to it (I got some smearing when I stamped with the Konad) - however I prefer the white Konad polish to the white Born Pretty polish.
I really love how this manicure turned out! It was a nice dip of my toes into the pool of animal print.
Note to self - tape your fingers when you're stamping with black polish! (I learnt this a little too late for my left hand, but it made everything so much cleaner for my right).
POST SUMMARY

Base & top coat:

Base - Duri Rejuvacote




Top - KBShimmer Clearly On Top

Polish used:

Ninja Polish Shillelagh - two coats




Born Pretty Store black stamping polish and Konad Special Black polish - stamped (Moyou Pro XL 04)