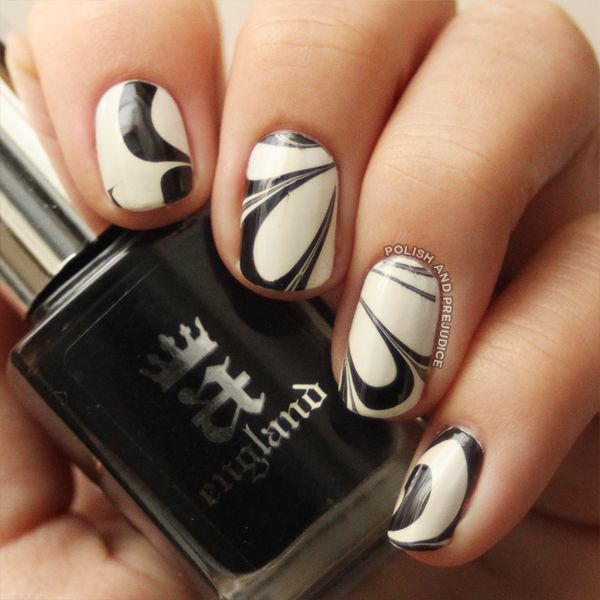 Hello all! More water marbling for you today, and this is probably my favourite out of all the combinations I've tried. Not only is the black and white look very striking, but I'm so pleased with how the pattern turned out!
I began with two coats of Sation Strumming My Nails, a perfect white creme. I used A England Camelot (black) and OPI My Boyfriend Scales Walls (white) for the marble itself. Both polishes worked very well for me, especially the OPI since it has a thinner formula.
As you can possibly see, I dipped all four fingers into the water at once because I find that this method works well for me (and I'm too lazy to do a whole new marble for each finger). I left my thumb with just A England Camelot.
I originally planned to add some glitter to the black sections of the nails, but after consultation with my brother ("It's busy enough already!"), I'm glad I left them plain!
POST SUMMARY

Base & top coat:

Base - OPI Natural Nail Base Coat




Top - KBShimmer Clearly On Top

Polish used:

Sation Strumming My Nails - two coats




OPI My Boyfriend Scales Walls - water marble




A England Camelot - water marble




Thumbs - one coat of A England Camelot