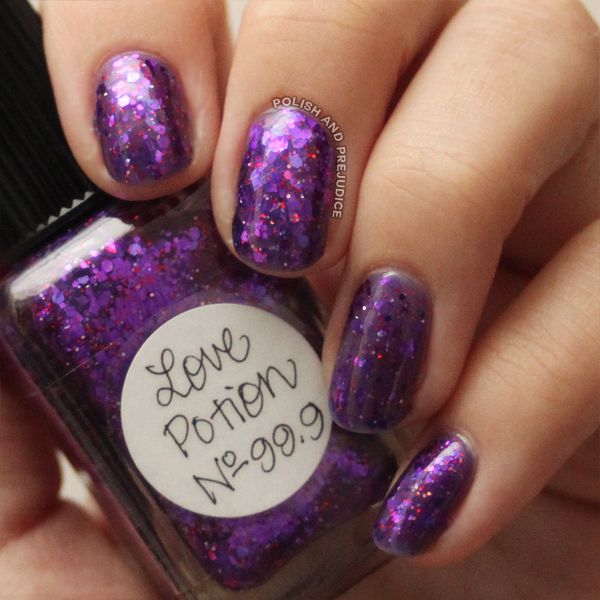 Hello all! It's my birthday this week and I'm wearing a simple glitterbomb manicure. I used Elevation Polish Mount Cangyan as my base and topped it with Lynnderella Love Potion No. 99.9.
Pictured above is two coats of Mount Cangyan - it's still not opaque at this point, but since I was wearing such a dense glitter on top, I didn't bother with a third coat. The polish has a gorgeous shimmer that I think would shine through so much better with another coat, or if it was worn over a dark purple/indigo base colour.
Love Potion No. 99.9 is an absolutely glorious polish, I'm so glad I bought it. It's made up of purple glitter of various shapes and sizes along with red microglitter. While I do love jelly/glitter indie polishes, there's something about glitterbombs I can't resist - I think it's how they turn out looking like crushed gemstones on your fingertips. Love Potion No. 99.9 definitely achieves this look, and does it beautifully.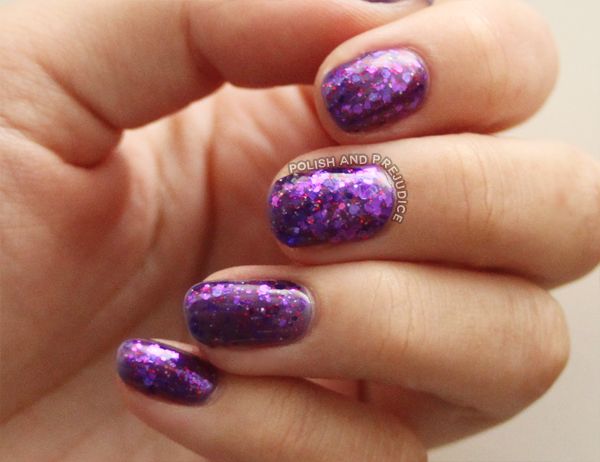 I topped this manicure with a coat of Essence Gel-Look and a coat of Cult Nails Wicked Fast. This tamed the glitter very well and gave a smooth enough finish.
POST SUMMARY

Base & top coat:

Base - OPI Natural Nail Base Coat




Top - Essence Gel-Look (one coat), Cult Nails Wicked Fast (one coat)

Polish used:

Elevation Polish Mount Cangyan - two coats




Lynnderella Love Potion No. 99.9 - one coat