Hello all! I've got a full water marble to show you today - after watching some tutorials (particularly My Simple Little Pleasures) I decided to go ahead and try marbling all four of my fingers at once. I'm too lazy to do another whole marble for my thumb, so I left them plain.
For this design, I started with two coats of Sation Lollipop Goes The Princess. The polish is a very pale purple, it applied smoothly and was opaque in two coats. Unfortunately this polish didn't work well for me when marbling, so I used Essie Find Me An Oasis instead, along with China Glaze That's Shore Bright and China Glaze For Audrey.
I'm so pleased with how this manicure turned out, I feel like I'm getting the hang of water marbling. I think most of the secret is finding nail polish that spreads well in the water and doesn't dry too quickly! The Essie and both China Glazes worked very well and I didn't have any trouble dipping all four of my nails at once; it definitely saves lots of time!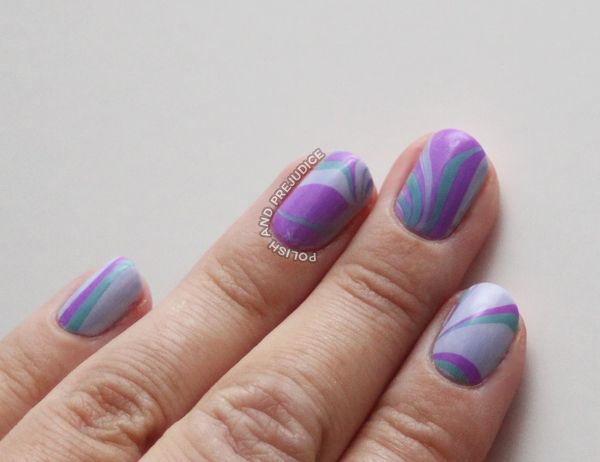 Below you can see Lollipop Goes The Princess on its own on my thumb.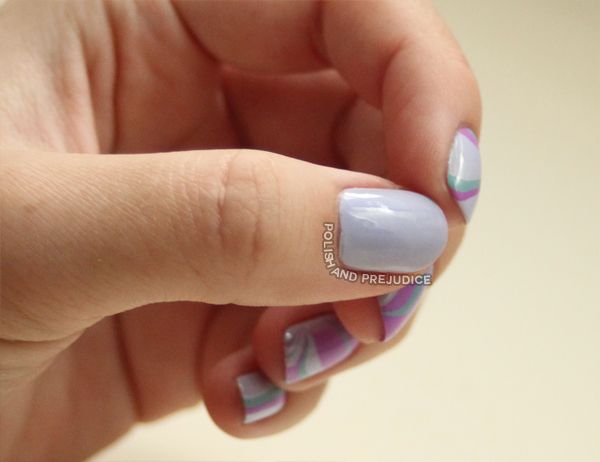 POST SUMMARY

Base & top coat:

Base - OPI Natural Nail Base Coat




Top - Cult Nails Wicked Fast

Polish used:

Sation Lollipop Goes The Princess - two coats




Essie Find Me An Oasis - water marble




China Glaze For Audrey - water marble




China Glaze That's Shore Bright - water marble