Hello all! Another gradient with glitter on top to show you today. This is a pale blue/purple vertical gradient topped with Glam Polish Mermagic.
For the gradient, I started off with two coats of Essie Find Me An Oasis, a pale blue creme. The polish was opaque at this point, but I did experience some bubbling, so if I was wearing it alone I'd go with three thin coats. I had originally planned to use Sation Lollipop Goes The Princess for the purple in my gradient, but that was too close in colour to Find Me An Oasis so I used Misa Great Grape instead.
This was my first time doing a vertical gradient and I do like it, but I think I prefer diagonal gradients. Vertical gradients also require more cleanup around the cuticle area
(which I find more difficult than cleaning up around the edges of the nails)
than if you were doing a simple gradient on the tips of the nails so that's another thing to keep in mind.
I broke out Glam Polish Mermagic for my topper. Mermagic is a gorgeous clear-based glitter with microglitter and circles in pastel purple, teal, pink and silver. The polish went on easily and I didn't have any issue getting the larger circles out, though to get this density of glitter I did have to add more glitter while I was doing each nail.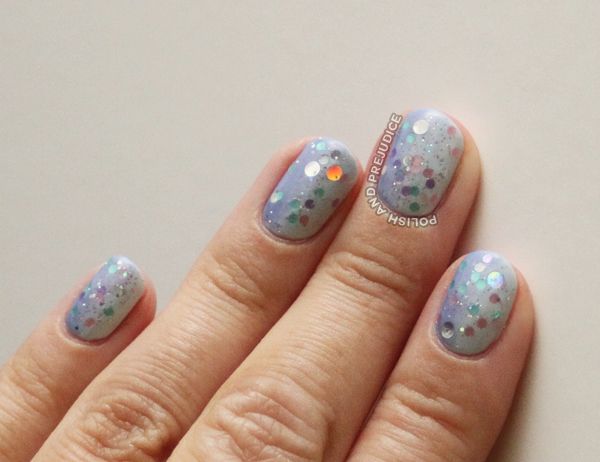 I finished off with one coat of top coat. I love how this manicure turned out!
POST SUMMARY

Base & top coat:

Base - OPI Natural Nail Base Coat




Top - KBShimmer Clearly On Top

Polish used:

Essie Find Me An Oasis - two coats + sponging




Misa Great Grape - sponging




Glam Polish Mermagic - one coat