I'm currently oscillating wildly between nail art techniques - I have burning desires for dotticures, water marbling, stamping, gradients and pond manicures. So many ideas, so little time!
I decided to give myself a break from water marbling and try a full dotticure using my Dance Legend Chameleon polishes; Celia, Roz and Wazowski.
Below you can see the colour shift in the dots of the different polishes - it looked as if I used a multitude of different colours when I only used three!
My black base was, as it is always, one coat of A England Camelot, and I finished with one coat of Cult Nails Wicked Fast.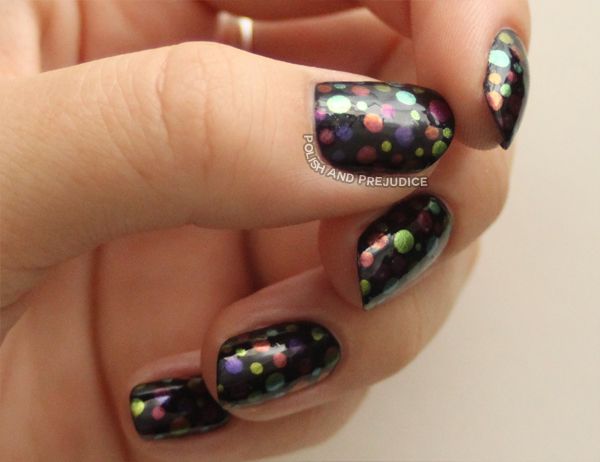 If you haven't tried dotticures yet, I highly recommend them - the technique is so easy and the opportunities are endless!
POST SUMMARY

Base & top coat:

Base - Duri Rejuvacote




Top - Cult Nails Wicked Fast

Polish used:

A England Camelot - one coat




Dance Legend Chameleon Celia - dotted




Dance Legend Chameleon Roz - dotted




Dance Legend Chameleon Wazowski - dotted