Hello all! I've been completely swamped at uni recently so I forgot entirely about posting this month's haul. I didn't buy any polish in March and I'm not buying any in May (spending budget is allocated to a very beautiful, very expensive pair of shoes...) so I gave myself a break and picked some up in April.
Firstly, I bought my first Lynnderellas from
Glitter Connect
. I've heard that there is a lot of controversy about Lynnderella polish; I'm not 100% sure what it is as I've only made my way into the nail polish community in the last year, but I do know that Lynnderellas are quite expensive and exclusive. I really loved some of the glitterbombs I'd seen swatches of so I picked up Garnet Grace, Glass Houses and Love Potion No. 99.9. They look amazing in the bottle!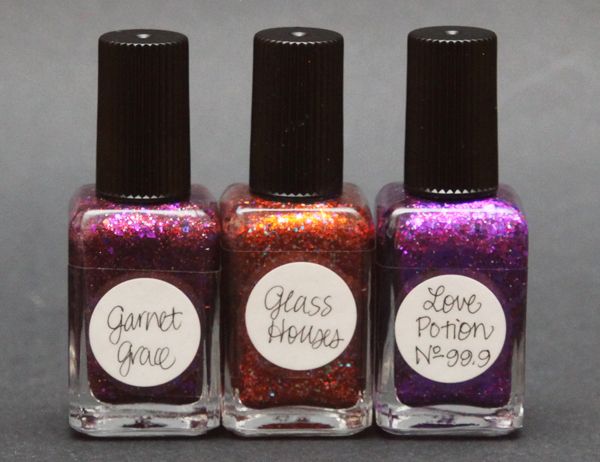 When I heard that the April What's In-Die Box theme was 'All Things Mythical and Fantasy', I had to get it! The polish in this April's box was a great mix of different colours and finishes; glitters, shimmers, and toppers. From left to right: Bella Belle Dragon's Breath, Lilypad Lacquer Siren Of The Sea, Peita's Polish Unicorn Whisper, Glam Polish Dancing In The Moonlight and Mckfresh Nail Attire Lady Scales.
None of the polish really stood out to me in the bottle, but when I swatched them I was much more excited! My surprise favourite was Mckfresh Lady Scales - it's a beautiful green-based glitter polish chock full of microglitter that flashes a multitude of different colours. I'm very excited to try this one on the nail!