This gradient-dotticure-sponged-glitterfied manicure was i
nspired by
Every Little Polish's gorgeous Picture Polish Blog Fest manicure
- I wish mine had come out looking more like hers!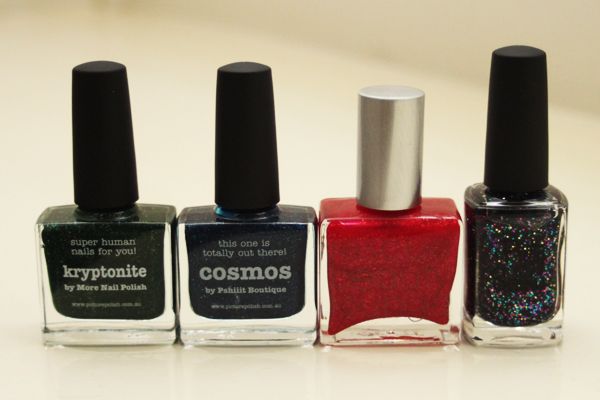 I began with one coat of A England Camelot, then dotted Illamasqua Scorch from my nail tip down towards the cuticle in a gradient style. This looked amazing on its own, and I'm a little regretful that I didn't leave it there. I should definitely do more dotticures in the future.
After the dots dried, I used small pieces of makeup sponge to sponge on Picture Polish Kryptonite, Picture Polish Cosmos and Rescue Beauty Lounge Lotus Elise. I think my issue was that I didn't blend the colours enough, so it's more like sections of colour rather than a cohesive marbling effect.
Finally, I painted some Pretty Serious Black Diamond over the tips for some extra sparkle, then finished off with Cult Nails Wicked Fast.
I liked this manicure more and more after time went on, but when I try this technique next time I'll definitely remember to blend the colours a bit more!
POST SUMMARY

Base & top coat:

Base - Duri Rejuvacote




Top - Cult Nails Wicked Fast

Polish used:

A England Camelot - one coat




Illamasqua Scorch - dotted




Picture Polish Kryptonite - sponged




Picture Polish Cosmos - sponged




Rescue Beauty Lounge Lotus Elise - sponged




Pretty Serious Black Diamond - dabbed on tips