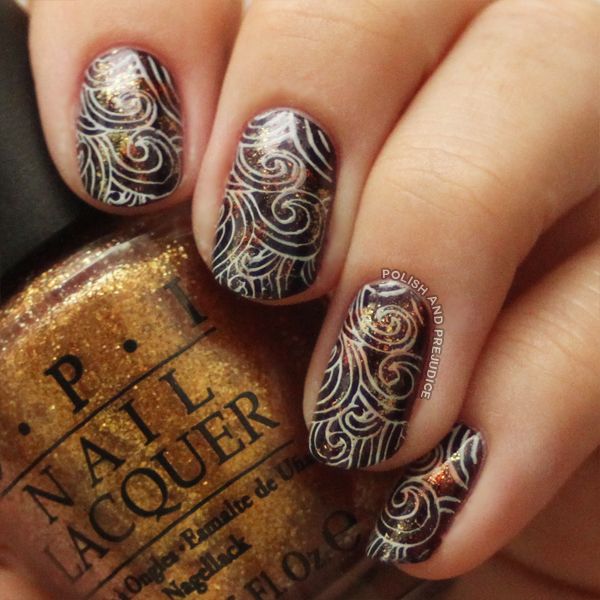 Hello all! I've got quite an exciting mani to show you today - I wanted to use one of my older untried polishes and do some more stamping too, so I came up with this gorgeous shimmery almost gilded-effect manicure covered in swirls.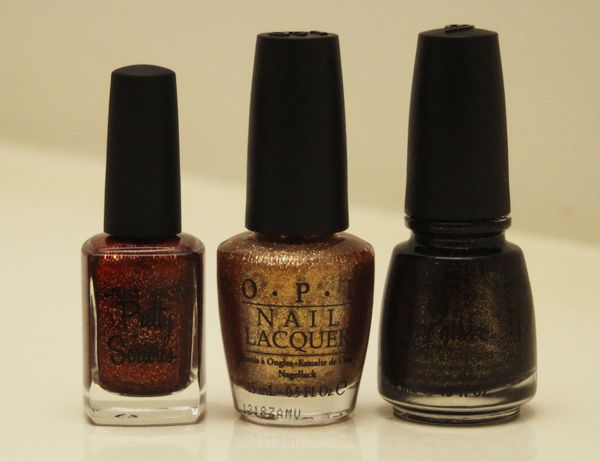 For this look, I started off with one coat (one coat!) of China Glaze Midtown Magic, then randomly sponged Pretty Serious Seasonal Sunset and OPI Goldeneye until I was happy with how it looked. You can see my un-stamped progress shot below...
Since I had only used one coat of polish and then the sponging, everything was dry and I didn't need to do a coat of quick-dry to speed things up, so I moved straight on to stamping!
I used Konad Stamping Polish in white and Moyou London Fairytale Plate 02 (the swirls in the top left corner) for my stamping. I'm really pleased with how this came out, though it is worth noting that some of Seasonal Sunset's colour bled through the white and turned it a little bronze, but it isn't very noticeable. This issue could probably be cured by using a coat of top coat before stamping, so I'll keep that in mind for the future.
I finished off with a coat of Cult Nails Wicked Fast and enjoyed the shimmery, swirly goodness!
POST SUMMARY

Base & top coat:

Base - Duri Rejuvacote




Top - Cult Nails Wicked Fast

Polish used:

China Glaze Midtown Magic - one coat




Pretty Serious Seasonal Sunset - sponged




OPI Goldeneye - sponged




Konad Stamping Polish White - stamping (Moyou Fairytale 02)