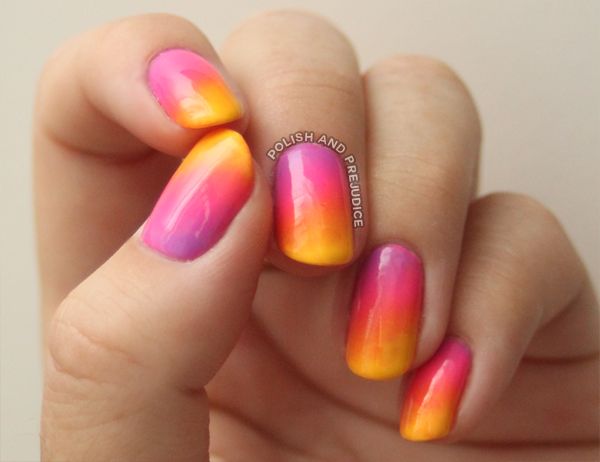 I feel as if the recent nail art manicures I've done have been absolutely smashing, if I do say so myself, and this one is no exception. It's inspired by my diagonal pastel rainbow gradient (which I'm still ridiculously proud of) - I absolutely loved the purple-pink-yellow combination on my pinky finger, so I decided to do it as a full manicure and brighten it up a little. I decided to do it diagonally as well, because why not. The end result is a bright, happiness-inducing combination and I love it!
I used China Glaze Happy Go Lucky (yellow creme), Australis Totes Amaze (almost-neon pink) and China Glaze That's Shore Bright (bright purple creme) for this manicure. I began with two coats of the pink (which wasn't fully opaque at that point, but that's okay), then painted the tips of my nails with the yellow to make sure the colour was opaque without doing a million coats of sponging. For the gradient itself, I used a makeup sponge with all three colours. I painted the polish straight on to the sponge because I was too lazy to do the swirly method for three colours!
This one was very messy so I'm glad I prepped my fingers with copious amounts of sticky tape before I began...
I finished off with two coats of Cult Nails Wicked Fast. I'm finding that gradients do require two coats of top coat for smoothness, so I'm glad I took the time to do it because this manicure was glassy. I wore it for about a week and only had some minor tipwear.
Thanks for visiting, and I hope you enjoy these photos! They make me feel all warm and summery!
POST SUMMARY

Base & top coat:

Base - Duri Rejuvacote




Top - Cult Nails Wicked Fast (two coats)

Polish used:

Australis Totes Amaze - two coats + sponged




China Glaze Happy Go Lucky - sponged




China Glaze That's Shore Bright - sponged