Hello all! I can hardly believe it's February already, and that it's almost been a full year since Polish and Prejudice started. I've come a long, long way since then, and I cringe a little when I look back on those first posts, but it's pretty great to see how my skills have improved! I'll be posting something tomorrow (prepare yourselves for a glorious giveaway) but for now, have some photos of the mani I'm wearing now.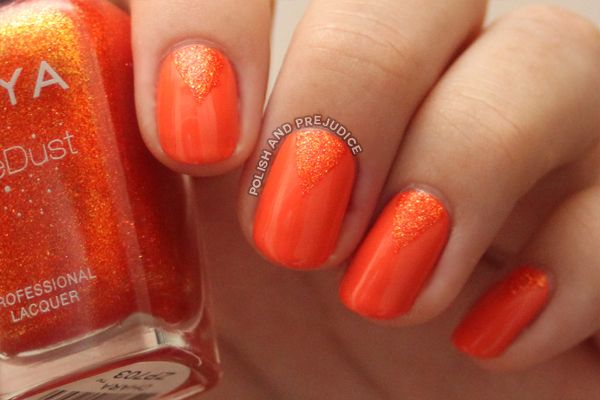 I started off with three coats of Zoya Thandie, an orange creme with a practically invisible shimmer. I wish two coats were enough but the polish was still streaky at two. I top coated with KBShimmer Clearly On Top then waited until my nails were completely dry before applying Scotch tape in chevron shapes and, doing one nail at a time, painting in the tape with Zoya Dhara and peeling the tape off.
I'm so impressed with Dhara, it's so beautiful and sparkly and applied so easily! It's my first time using textured polish so I think this was a great way to ease myself into it.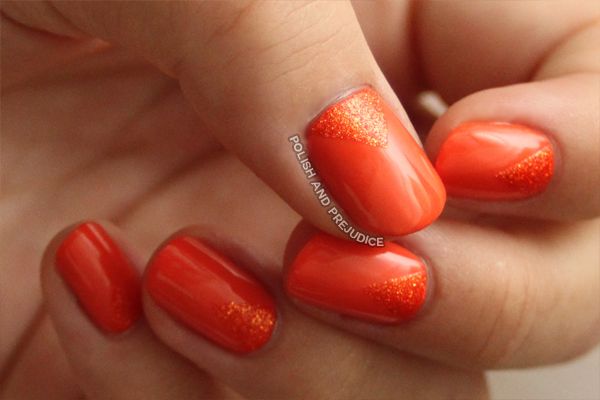 The end result is still fairly subtle but with a nice contrast between shimmery texture and smooth creme, and it's really stunning in the sunshine!
POST SUMMARY

Base & top coat:

Base - Duri Rejuvacote




Top - KBShimmer Clearly On Top

Polish used:

Zoya Thandie - three coats




Zoya Dhara - one coat (chevrons)