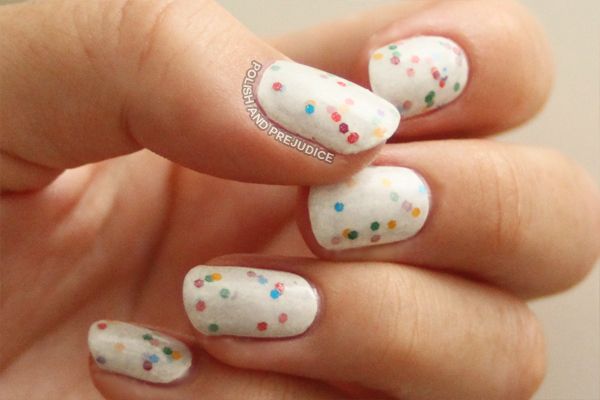 Hello all! Another untried polish busted today - this is Gloss 'n Sparkle Unicorn Droppings, the brighter big sister to
Gloss 'n Sparkle Unicorn Spawn
. Unicorn Droppings is a mixture of yellow, blue, green, red, orange and purple hexes in a slightly grey off-white shimmery crelly base. I love how this looks on the nail, it's colourful and fun whilst not being too in-your-face.
I wore Unicorn Droppings as two coats over one coat of white to ensure opacity. The coats applied smoothly and two coats was enough to cover up the lingering streakiness of the single coat of white polish. Glitter pickup was good (I rested the bottle upside down while applying base coat and the white) and spread well over the nail with a bit of manipulation.
I finished off with one coat of Cult Nails Wicked Fast. The glitter didn't need any further coats to be smooth, which is very impressive!
POST SUMMARY

Base & top coat:

Base - Duri Rejuvacote




Top - Cult Nails Wicked Fast

Polish used:

Illamasqua Scorch - one coat




Gloss 'n Sparkle Unicorn Droppings - two coats