Hello all! I'm very excited to show you my first stamping attempt today! I'm very pleased with how this turned out, stamping is a fantastic way to get complex nail art relatively easily.
I started this manicure with one coat of Sinful Colors Endless Blue, a gorgeous one-coater bright blue creme. I waited for that to dry and prepared my new Moyou London Sailor Plate 03, plus my XL stamper and scraper set (also from Moyou). I used Barry M Silver Foil Effects for the stamping.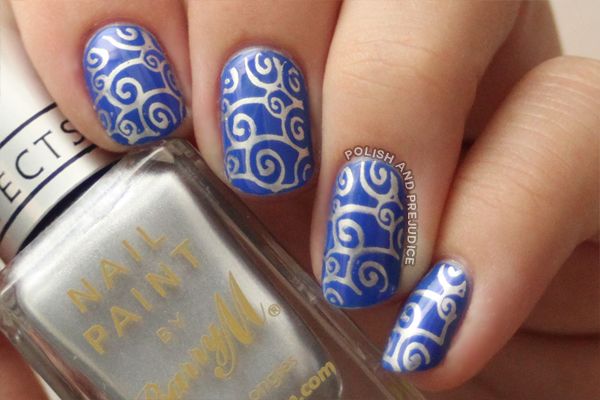 As for the stamping part, I took instruction from blogs and video tutorials I've seen along the way, but mostly from this tutorial by Polish Me, Please! I used a piece of masking tape to clean my stamper between stamps (very effective), a cotton bud to clean the stamping plate (I cleaned it once I'd finished stamping the nails of one hand, then again after both hands were done) and to clean up the majority of excess polish around my nail.
The Moyou XL stamper worked beautifully, I found it very easy to line up the stamps and to get the whole nail covered with the pattern (it's delightfully squishy!) I did end up with some nails with a smudged design from my overenthusiastic stamping, but we live and learn, right?
My one issue was that the plate designs only just fit my nails, even as short as they were at the time. I had the most trouble with my thumbnails since they're so wide; on my left thumbnail, I had a huge blank space so I restamped it with the edge of the design to cover it up a bit. (I've made the decision to give my smaller plates away and have already ordered a bunch more XL plates from Moyou already...)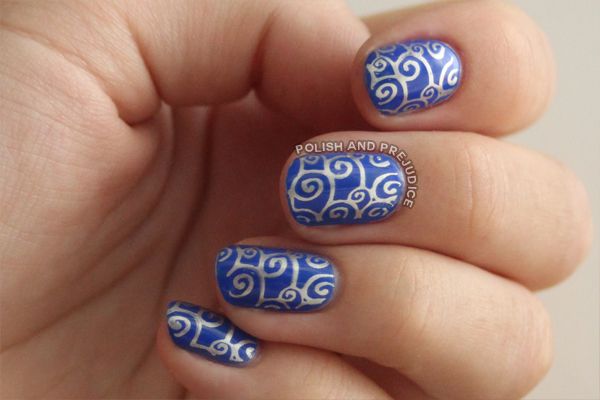 After using a cotton bud and brush to clean around my nails, I finished off with Cult Nails Wicked Fast, making sure to glide the brush over the design - and I experienced no smudging at all.
I absolutely love this mani, it's so much fun and looks so complex! My dad was very impressed and asked me if I'd painted it on myself. I'm so glad I decided to give stamping a try!
POST SUMMARY

Base & top coat:

Base - Duri Rejuvacote




Top - Cult Nails Wicked Fast

Polish used:

Sinful Colors Endless Blue - one coat


Barry M Silver Foil Effects - stamped (Moyou Sailor Plate 03)