Hello all! Another gorgeous What's In-Die Box? polish to show you today - this is Lilypad Lacquer Vanellope, a mint-green linear holo with a faint pink shimmer.
I've always been a bit leery of holos because I usually dislike how grey they look while in the shade, yet love how they pop in the sun and bright light. Luckily, Vanellope in the shade is this gorgeous, shimmery mint colour that thankfully isn't greyed out by the holo particles.
I wore Vanellope at two to three coats on different nails (I'd say that this one's a three-coater, but if your coats are thicker or you have shorter nails you could get away with two) and with a coat of Cult Nails Wicked Fast top coat. I didn't find that top coat dulled the holo effect at all. I'm pleased to say that the wear time for this polish was quite good as well! I wore it for about five days with minimal tip wear.
Below I included a photo of the polish in direct flash to show off the holo effect.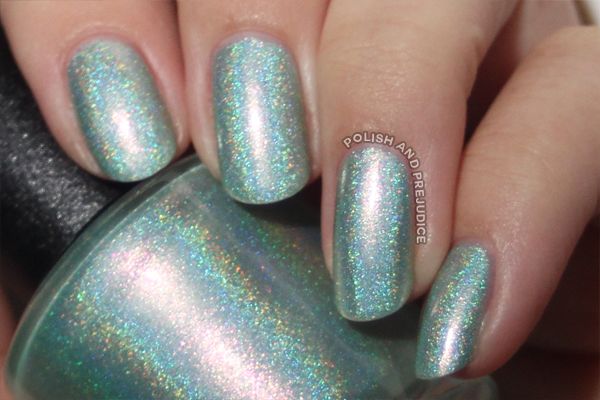 Direct flash
POST SUMMARY

Base & top coat:

Base - Duri Rejuvacote




Top - Cult Nails Wicked Fast

Polish used:

Lilypad Lacquer Vanellope - two to three coats