Happy New Year, everyone! I've got a very exciting haul to show you all today.
First up, I did my first order from Harlow & Co.; got my first KBShimmer, Cirque and Arcane Lacquer polishes, as well as another Picture Polish for my collection! I was very impressed with the delivery time for these polishes and I'm very excited to try them.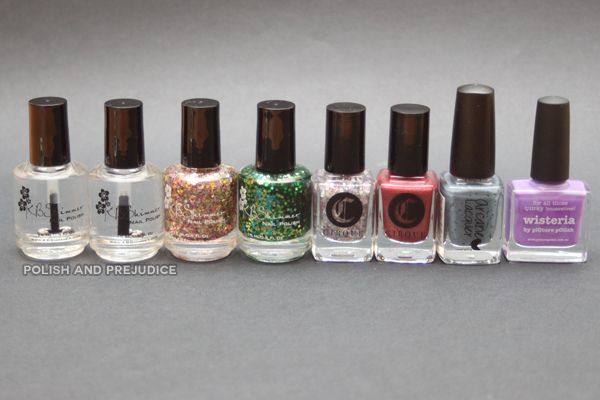 Left to right: KBShimmer Clearly On Top x 2, KBShimmer Toast-ess With The Mostest, KBShimmer Get Clover It, Cirque Lullaby, Cirque Vesuvius, Arcane Lacquer Mercurial, Picture Polish Wisteria
--
Secondly, I ordered four polishes from Glam Polish and after swatching them on swatch sticks, I love every single one! The lovely people at Glam Polish also included a mini bottle of Christmas In Whoville (which I think is a limited edition or something, because I can't find it in their shop) and a little plastic bag full of gorgeous white, pink and blue glitter.
Left to right (all Glam Polish): Twister, Mermagic, Funhouse, Conjuring, Christmas In Whoville
--
My final polish order was from Ninja Polish. I'm very excited to try the Dance Legend Termos (I already stuck the bottles under hot water and the colour change is fantastic!).
Left to right: Nfu Oh JS45, Jessica Cinnamon Kiss, Ninja Polish Shillelagh, Dance Legend Termo 177, Dance Legend Termo 162, Barry M Satsuma, Barry M Key Lime, Barry M Black Croc Effects
--
Finally, I caved and bought some stamping plates and equipment from Moyou. I got plates from the Fairytale, Explorer, Sailor and Pro collections, as well as an XL stamper and scraper.
I was quite surprised as to the sizes of the plates and stamper - they were all much smaller than I was expecting. The plates I ordered have normal-sized images (excluding the plates with images spanning the whole plate) and they look like they're only just big enough for my nails when they're on the short side! Unfortunately I don't have any other plates to compare them to, but if you have longer nails than myself then maybe you should go for the XL-image plates. I'll probably save stamping for when I've just given my nails a chop, just to be safe.
I did try stamping over my existing mani (I couldn't resist!) and though I think I need some practise, I didn't find it too difficult. The stamper is lovely and squishy and easy to clean with remover and cotton wool, and I cleaned the plate easily enough with acetone and the eyeliner brush I use to clean up around my nails.
I'll have a full review and photos of the plates when I get around to using them for real, but for now, enjoy the teaser shots! Thanks for reading!