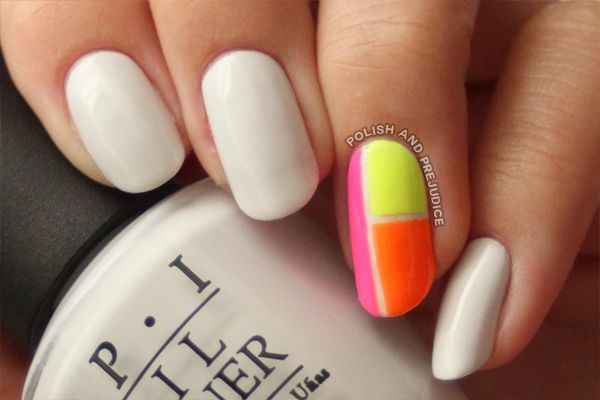 My striping tape shenanigans strike again! This time I tried a simple colour block as accents on my ring finger and thumb.
For this manicure, I began by cutting some strips of striping tape while my nails were bare. Then I applied a base of three coats of OPI My Boyfriend Scales Walls and topped it with Cult Nails Wicked Fast top coat to speed up the drying time.
When that was completely dry, I placed the striping tape on my ring and thumb nails and filled in the blocks on one of the nails with China Glaze Yellow Polka Dot Bikini (neon yellow), Australis Totes Amaze (neon pink) and Models Own Orange Sorbet (neon orange). I only needed one coat of each polish over the white - no streaking or sheerness to worry about!
As soon as I finished applying the polish, I peeled the tape off and repeated the process with my thumb.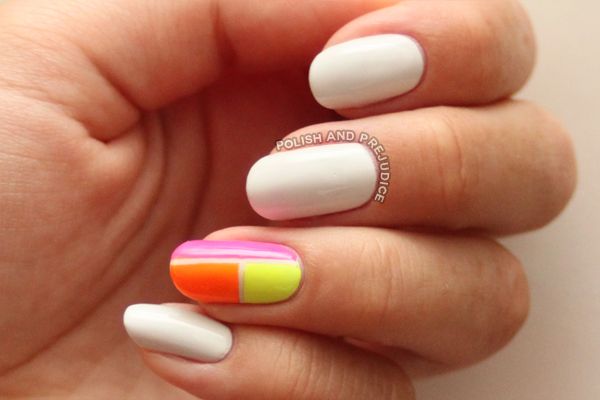 I'm really happy with how this mani turned out! It's bright, colourful and was very easy to achieve. I hope you enjoy it too!
Top - Cult Nails Wicked Fast

OPI My Boyfriend Scales Walls - three coats

Australis Totes Amaze - one coat

China Glaze Yellow Polka Dot Bikini - one coat

Models Own Orange Sorbet - one coat