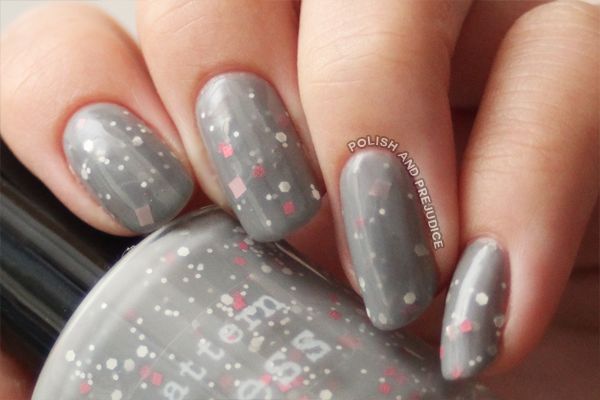 Hello all! Nail Pattern Boldness Oodiful is a polish I had been lusting after for ages, and I only recently got a chance to wear it.
Oodiful is a dove grey jelly with matte white and pink glitter (hexes, microglitter and squares), a rather unorthodox combination but one I've seen popping up here and there quite recently. The polish is inspired by the Ood from Doctor Who. I watch Doctor Who and find the Ood to be kind of creepy and weird, but this polish is gorgeous, so I love it anyway!
I was initially worried about opacity, but I dived right in without a base colour and applied Oodiful on its own. I'm wearing three coats in these photos with one coat of Cult Nails Wicked Fast top coat.
I used reasonably thick coats but they all leveled out perfectly, and the sparseness of the glitter means that the polish doesn't sit too thickly on the nail. Three thinner coats would probably work just fine. Another positive is that the glitter lays very flat, and I only needed one coat of top coat for smoothness.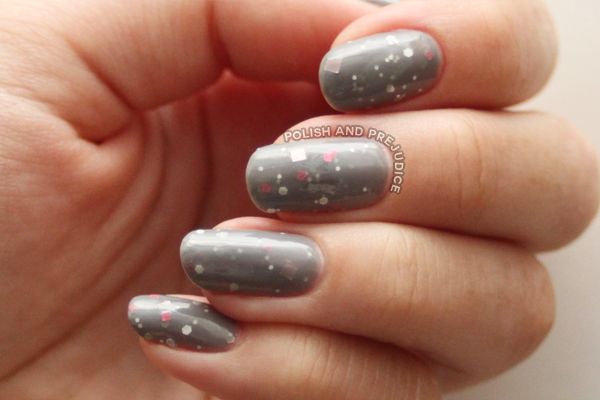 Overall, Oodiful is a lovely polish with great application and I really enjoyed wearing it!
Top - Cult Nails Wicked Fast

Nail Pattern Boldness Oodiful - three coats