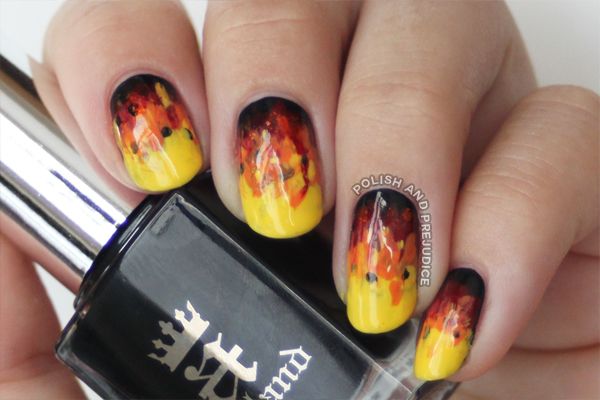 I went to see The Hobbit: The Desolation of Smaug a couple of days ago and I wanted some nail art to match the occasion. Thankfully, I'd been drooling over Chalkboard Nails' phoenix-inspired manicure, so I thought I'd give it a shot!
I began by assembling my polish - I don't have a gold flake polish (...yet...) so I chose to use Nfu Oh 45, an orange flakie, as well as Rimmel Rapid Ruby, OPI In My Back Pocket and China Glaze Happy Go Lucky. Finally, I used A England Camelot as my black base. The brush I used is the medium-length striper from this brush set from Born Pretty store.
I started off with one coat of A England Camelot, then used small dabbing brush strokes to add my first coat of red and orange. I painted two coats of yellow over the tips of my nail to make sure no black showed through (if I do this again, I'd probably paint half the nail yellow in the first place with no black underneath!). I kept going over the design with the different colours of polish until I got the look I wanted. It took about three goes with each colour, but I'm really happy with how it turned out!
I added some dots of Camelot for the floating ash and some Nfu Oh 45 flakies to give the look a touch of sparkle, then finished off with Cult Nails Wicked Fast.
I'm so glad that I persisted with this manicure (it looked pretty crappy at the start!) because I love how it looks! I think it's a very organic-looking flame with lots of life and movement to it. I do wish I could have gotten the more refined, delicate look like the Chalkboard Nails version, so I think I need to trim one of my stripers to get a thinner brush for next time!
I hope you enjoyed this post, and let me know what you thought of The Desolation of Smaug as well! (I have many feelings. Too many.

Help me.

)
POST SUMMARY

Base & top coat:

Base - Duri Rejuvacote




Top - Cult Nails Wicked Fast

Polish used:

A England Camelot - one coat + dabbed




Rimmel Rapid Ruby - brush strokes




OPI In My Back Pocket - brush strokes




China Glaze Happy Go Lucky - two coats over nail tips + brush strokes




Nfu Oh 45 - brush strokes