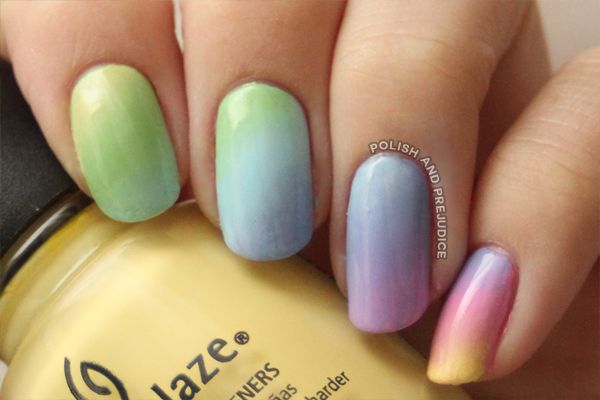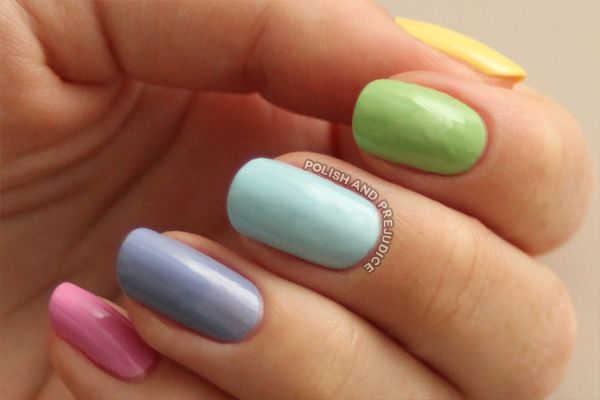 I began with Misa Ripe Raspberry (pastel pink, one coat), Misa Great Grape (muted pastel purple, one coat), Misa Blueberry Blast (pastel blue, two coats), Sinful Colours Pistache (pastel green, two coats) and China Glaze Lemon Fizz (pale yellow, two coats).
Then, using a makeup sponge, I created the diagonal gradients using the colour of the nail to one side, the base colour and the colour of the nail to the other side. For example, for my middle finger I used green at the top of the sponge, blue in the middle and purple at the bottom.
I finished off with two coats of top coat to smooth everything out. The gradient did look quite patchy before top coat, but afterwards it was all blended and perfect!
I'm very proud of myself. It took heaps of work but I'm glad I tried it! I told my colleagues at work to look their fill because I probably won't get myself up to doing a mani like this for a while.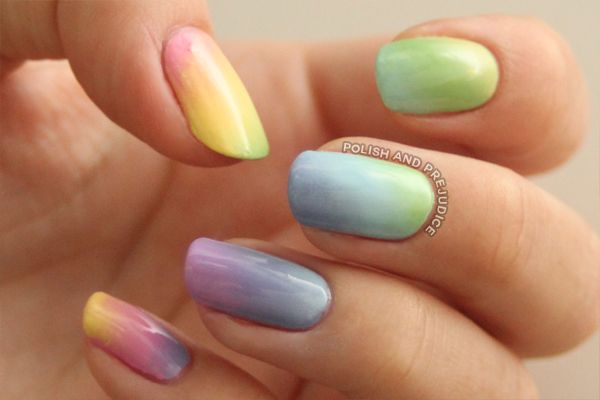 Top - Cult Nails Wicked Fast, two coats

China Glaze Lemon Fizz - two coats + sponged

Sinful Colors Pistache - two coats + sponged

Misa Blueberry Blast - two coats + sponged

Misa Great Grape - one coat + sponged

Misa Ripe Raspberry - one coat + sponged