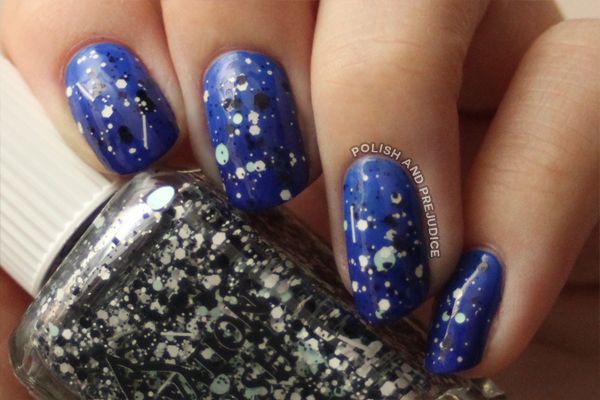 Hello all! I'm very excited to show this mani to all of you - it's a subtle blue gradient topped with Elevation Polish Haba Xueshan, a black and white glitter polish with a twist.
I started off with one coat of Sinful Colors Endless Blue, a gorgeous bright blue (see my swatches here) then used Endless Blue along with OPI Eurso Euro to make a gradient. I used a makeup sponge and the Nailasaurus's swirly method.
I was very tempted to leave the gradient and top coat then, but I soldiered on and layered with Elevation Polish Haba Xueshan, a glitter mix of black and white hexes, white bars and pale blue circles. Haba Xueshan was easy to apply. I dabbed the polish around on the nail and had to do a bit of fishing for the bars and the circles, but they were easy to manoeuvre onto the nail once I got them.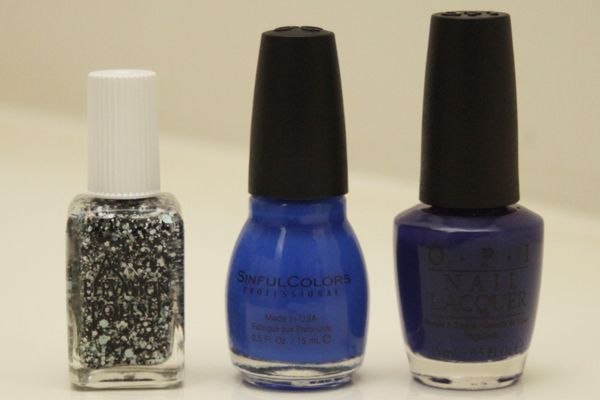 I finished off with one coat of Cult Nails Wicked Fast - I could have gone for a glitter tamer to make the finish completely smooth, but I was happy as it was. I love the finished product. The gradient is very smooth and subtle, looking as if I dipped my nails into dark blue ink, and the glitter is a great touch! I had a lot of comments from people who thought I'd dotted every single glitter piece on myself!