I wasn't going to buy any polish this month, but then I wanted more jellies and saw that Nfu Oh was discounted on Crush Cosmetics...so I thought, what the heck. This was my second order from Crush Cosmetics and I can safely say that they're a great e-tailer, and if you're in Australia the shipping is very convenient and inexpensive (I got free shipping for this order).
I bought eight Nfu Oh polishes; four jellies and four flakies. I'm not showing two of the flakies here because I'm hoarding them for a giveaway next year (that's me, forward planning to the point of being ridiculous), but the rest are all mine! So here they are.
Left to right (all Nfu Oh): 24, 12, 10, 8, 55, 45
Nfu Oh 24, 12, 10 and 8 are all jellies. I swatched them on swatch sticks to get an idea of their colour and opacity. At three coats, 8, 12 and 10 look pretty opaque but 24 is more like the food jelly as the colour is strong and streak-free but still translucent. Another thing to note is that in the bottle, Nfu Oh 24 looks red but on the swatch stick it's a berry/hot pink colour.
Left to right (all Nfu Oh): 8, 24, 12, 10
Swatches of the two flakies, 45 and 55, are shown as two coats. The left half of the swatch stick has a stripe of black underneath to show what the flakies would like like over a dark colour.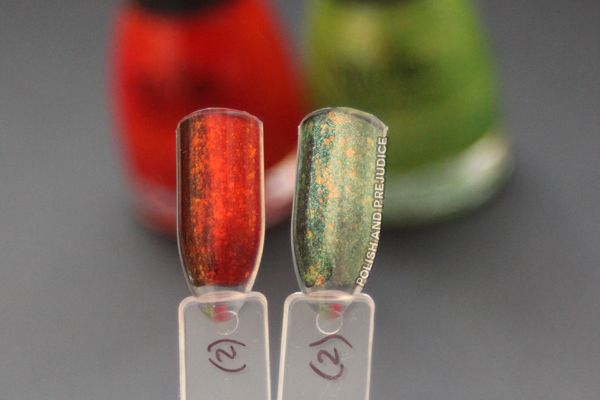 Left to right (both Nfu Oh): 45, 55
In addition to the polish, I bought some (...three hundred) clear swatch sticks from ebay. I'm a very obsessive person, a fact which I have come to terms with and embraced, and I love to organise stuff. Nail polish is one of the few things in my house that I have complete control over and that nobody else touches, so I love messing around with it and organising it the way I want to (stay tuned for a stash organisation post!) Swatch sticks seemed to be the next logical progression for me so I had heaps of fun swatching every single one of my polishes onto the sticks and grouping them by colour etc on hinged document rings. I shudder to think of all the fumes I inhaled, but it was worth it. Hopefully I can do a little photo shoot and pop a post up about my swatch sticks soon!
And that concludes my September haul. Thanks for reading!