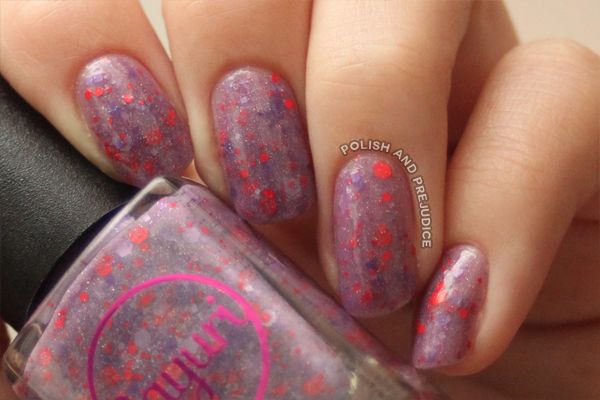 Hello all, today I've got a sweet polish to show you; this is Sayuri Fro Cone, a limited edition polish which was part of the August What's In-Die Box. Fro Cone is inspired by Snowanna Rainbeau, a kart racer in Sugar Rush. The polish has a shimmery purple base that reminds me of some kind of drink, and the glitter immersed within includes red hexes, purple squares and purple stars.
I'm wearing two and a bit coats - two coats with some extra dabbed on where needed, with two coats of top coat to finish. I experienced some shrinking at the tips after top coat was added.
Fro Cone's formula was great, very easy to work with and other than the stars, there was no glitter fishing required. Overall, this is a nice, soft polish with a great combination of glitter!
Notes on removal: I used the foil method for removal with no issues.
POST SUMMARY

Base & top coat:

Base - Duri Rejuvacote




Top - Cult Nails Wicked Fast

Polish used:

Sayuri Fro Cone - two to three coats