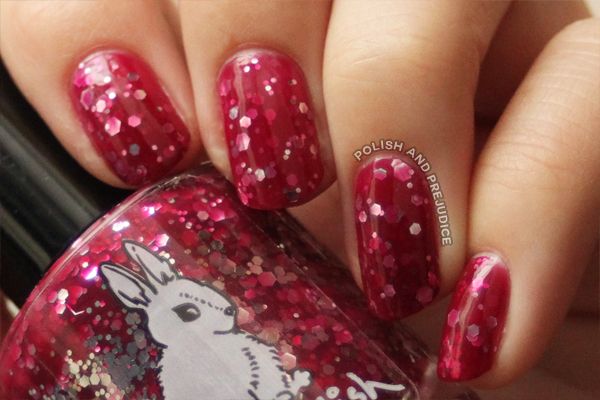 I was chopping my nails and took down more length than I intended. Oops. To make myself feel better, I decided to give my Hare Polish, A Positive, a spin. A Positive is a glitter sandwich in a bottle, with a berry-pink jelly base and different sizes of silver hexes. Depending on the light, the polish can look like a dark berry or a bright jellyish hot pink.
My first reaction as I began applying A Positive was wow. I expected the jelly base to be very sheer and require 3+ coats for opacity and was a bit dubious about going out on a limb and not using a base colour, but a base is definitely not necessary for this baby.
I'm wearing two coats of A Positive on all my fingers except my ring and pinky, on which I'm wearing three (I had a few glitter-free spots that I had to eliminate). Coverage in two coats is great, and even at three coats the glitter doesn't make the polish feel thick on the nail. I'm wearing just one coat of top coat to finish off, but if you like a perfectly glass-smooth nail I'd recommend using a glitter tamer or two coats of top coat.
Overall - great application, great colour and a joy to wear!

Notes on removal: I used the foil method and had no issues.
POST SUMMARY

Base & top coat:

Base - Duri Rejuvacote




Top - Cult Nails Wicked Fast

Polish used:

Hare Polish A Positive - two to three coats