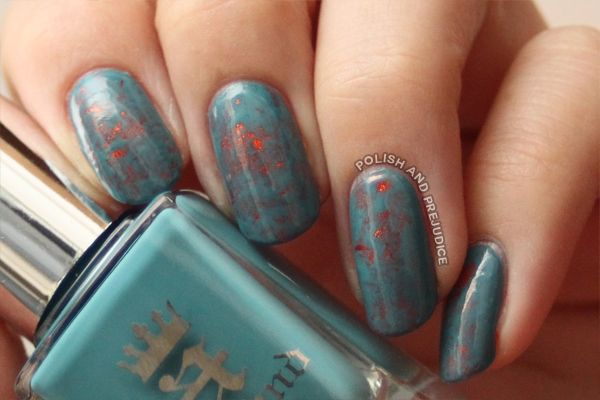 Cling wrap manis are one of my favourite nail art techniques, and so many bloggers have come up with interesting combinations that look incredible! I found a gorgeous mani by Manicurity that used China Glaze Riveting (a shimmery orange) and China Glaze Custom Kicks (a bright turquoise) that created an amazing glowing from within/fiery jewel effect that I had to try.
I don't own either of those China Glaze polishes, but I was wearing a four-day-old mani of Zoya Amy, a beautiful shimmery glass fleck orange and I thought that A England Galahad would go well.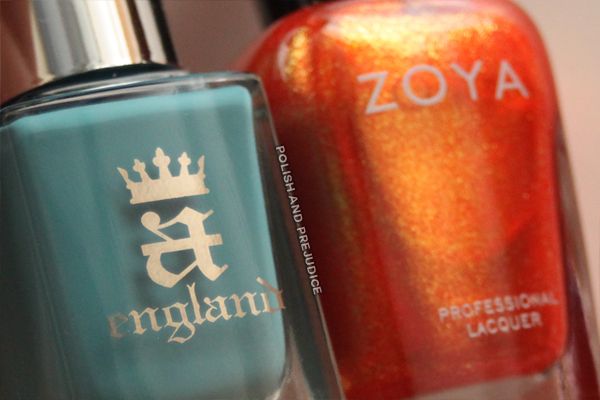 A England Galahad is a dusty teal creme, lovely in the bottle and lovely on the nail. To create this mani I brushed a coat of Galahad over my Zoya Amy manicure and used scrunched up balls of cling wrap to dab Galahad off and reveal the orange beneath.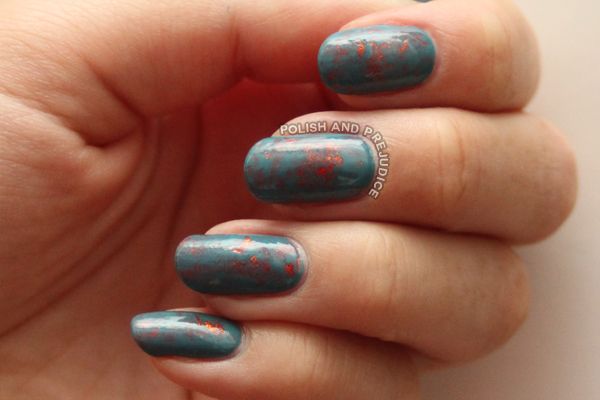 I finished with a coat of Cult Nails Wicked Fast top coat to smooth out the bumps from the cling wrap and give everything a nice shine. The colour doesn't pop nearly as much without top coat!
I really like this manicure - I wish I'd chosen a bit of a lighter blue but the contrast between dark and light, creme and shimmer is gorgeous. I'm glad I found Manicurity's example because this isn't a combination I'd have thought of myself!
POST SUMMARY

Base & top coat:

Base - Duri Rejuvacote




Top - Cult Nails Wicked Fast

Polish used:

Zoya Amy - two to three coats




A England Galahad - one coat (cling wrapped)