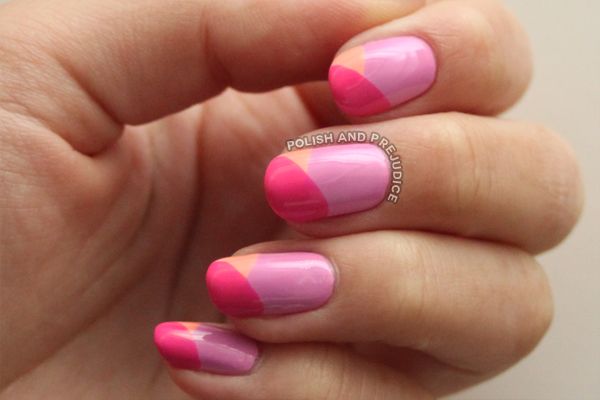 Judging from a bit of hasty Googling, these aren't exactly chevrons but they're close enough for me. I hope you all like them!
To create this look I used a base colour of two coats of Misa Ripe Raspberry, then swiped a stroke of Misa Peach Passion and finally Misa Lovely Lychee over the top. I finished with a coat of Cult Nails Wicked Fast.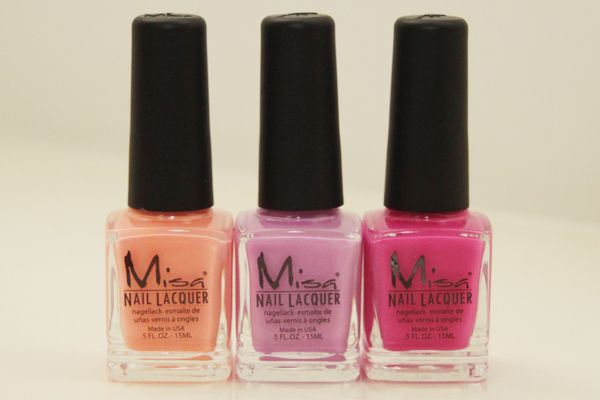 I'm really loving the Misa polishes I've tried - their formulas are smooth and silky, very easy to work with. Ripe Raspberry is a baby pink that looks purple next to the brightness of Lovelly Lychee, and Peach Passion is a soft but bright orange. Here's what the design looked like with just the Peach Passion over Ripe Raspberry; this part was easy to do, just a careful swipe of the brush over the tip of the nail. I rolled my finger a bit instead of just moving my brush hand to make the line as straight as I could.
My only problem with these polishes was that the Peach Passion brush was faulty. When I took the lid off, the inside bit of the brush came right off the cap! I tried pushing it back in there with an orange stick but it didn't work. This made the brush very difficult to work with, as you can imagine!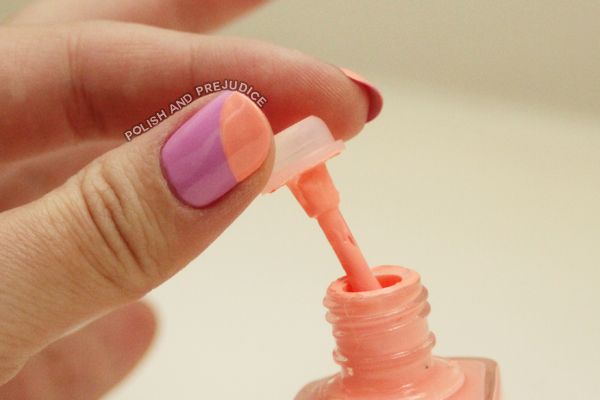 SADNESS.
However, I soldiered on. Lovely Lychee is a bright, hot pink that I absolutely love! It's also very opaque, which was good for this nail art. Doing this stripe took a bit of hand contortion but eventually I worked out a way that worked best for me.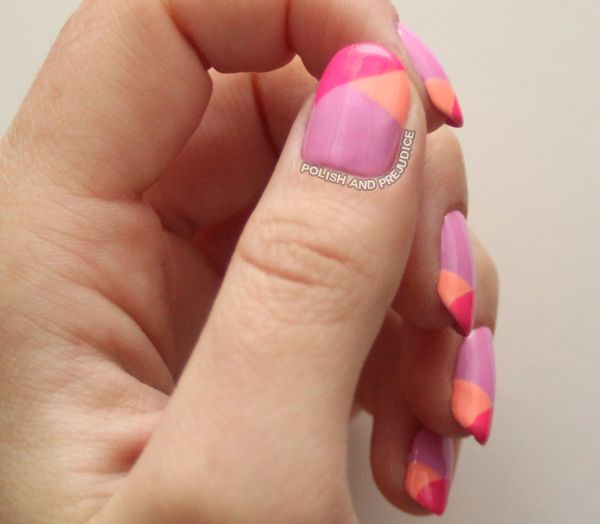 After waiting for the design to dry for a while, I carefully went over with a coat of Cult Nails Wicked Fast to finish. No smearing, thank goodness!
Overall, I absolutely love this look and I had heaps of comments from people who couldn't believe I'd done it myself! I will definitely use this design in different colours again and again because it's a relatively easy nail art design.
Just be aware that there is a high probability of getting polish on your skin (I did. A lot.) when you do the swipes, but a brush and some acetone fixes this all up!
Notes on wear time and removal: I forget how long I wore this mani for, but it was a couple of days, and I didn't experience any chips and only minimal tipwear. How awesome is that?! Removal was fine, but I did need to keep my cotton wool on the nail for a bit longer since there were quite a few coats of polish on the tips.
POST SUMMARY

Base & top coat:

Base - Duri Rejuvacote




Top - Cult Nails Wicked Fast

Polish used:

Misa Ripe Raspberry - two coats




Misa Peach Passion - one coat, swiped over nail tip




Misa Lovely Lychee - one coat, swiped over nail tip